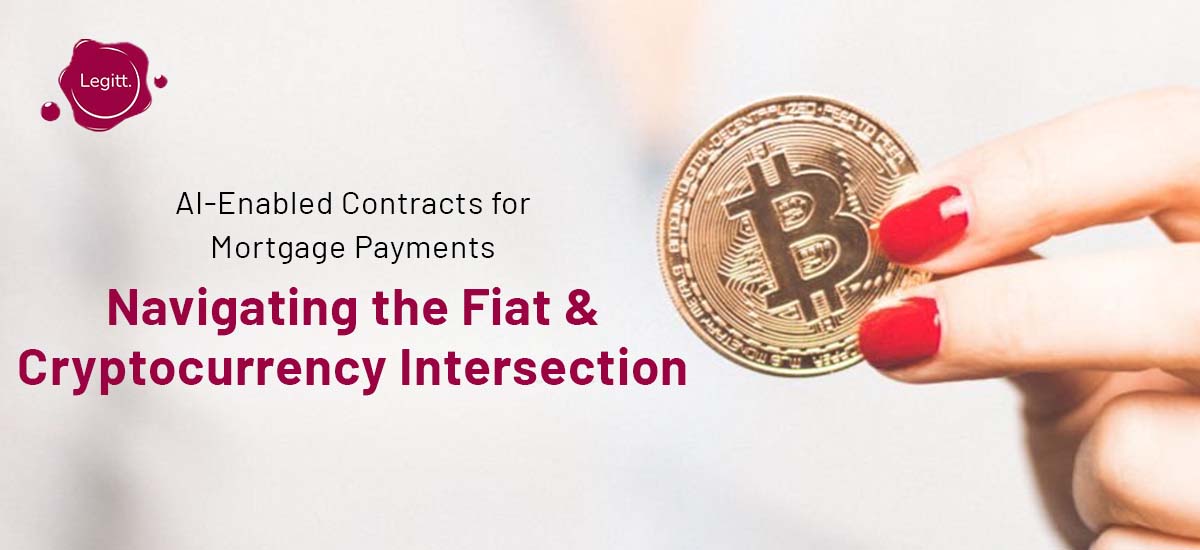 The realms of artificial intelligence (AI) and cryptocurrency are arguably two of the most ground-breaking innovations in modern finance. Individually, they offer immense value; AI streamlines processes while cryptocurrencies redefine transactional trust. Together, they have the potential to revolutionize traditional financial systems, especially when considering mortgages.
The Advent of AI in Contract Creation and Management
Traditionally, contracts, especially in the world of real estate and mortgages, have been complex documents requiring careful drafting, review, and compliance checks. Human errors, misinterpretations, and the sheer time consumed in these processes have long been a cause for concern. Enter AI.
AI, particularly through Machine Learning (ML) and Natural Language Processing (NLP), offers an elegant solution. ML algorithms can now predict mortgage interest rates based on a plethora of data, from global economic indicators to individual credit scores. NLP, on the other hand, aids in creating personalized mortgage contracts that ensure all essential clauses are included while adapting to the individual needs of the borrower.
Cryptocurrency
Cryptocurrencies, decentralized digital assets, have grown from being speculative investments to genuine transactional currencies. Some adventurous investors have even started to use popular cryptocurrencies like Bitcoin and Ethereum for significant financial commitments, including property purchases.

Advantages
Decentralization: Cryptocurrency operates independently of central banks, which means fewer middlemen and reduced transaction fees.
Speed: Blockchain-based transactions can be much faster than traditional bank transfers, especially for international deals.
Transparency: The decentralized ledger system means all parties can view and verify transactions, making fraud incredibly difficult.
However, the volatile nature of cryptocurrency prices remains a significant hurdle for its widespread adoption in recurring payments like mortgages.
Marrying Fiat and Cryptocurrency in Mortgages
With a growing number of users willing to transact in crypto, but a vast majority still entrenched in fiat, there arises a need for a mortgage system that smoothly integrates both.
Key Features
Provide Flexibility: Borrowers can choose their preferred mode of payment based on their financial strategy or the prevailing market conditions.
Hedge against Volatility: By allowing borrowers to alternate between fiat and cryptocurrency, they can protect themselves from extreme crypto market fluctuations.
Automate Currency Conversion: Using AI, real-time currency conversion can be facilitated, ensuring the correct mortgage amount is paid irrespective of the mode.
Smart Contracts
Smart contracts, self-executing contracts where terms of agreement or conditions are written into lines of code, are poised to play a pivotal role. They can automatically enforce and execute conditions based on the coded terms.
For instance, if a borrower chooses to pay this month's mortgage in Bitcoin, the smart contract could, based on the AI's real-time data analysis, convert the required amount at the prevailing exchange rate, ensure it matches the equivalent fiat amount, and then complete the transaction.

Challenges
Integrating AI and cryptocurrency into the mortgage payment ecosystem is not without its hurdles. Regulatory oversight, potential tech glitches, and the need for widespread education and acceptance are considerable challenges. Ensuring robust cybersecurity measures is paramount, given the sensitive nature of the data and transactions.
Legitt AI & Smart Contracts
For businesses looking to make headway in this avant-garde merger of AI and cryptocurrency in mortgages, platforms like Legitt AI can be game-changers. Legitt AI, with its cutting-edge AI algorithms, is designed to understand and adapt to rapidly changing financial landscapes.
Whether it's creating an intelligent contract tailored to individual borrower needs, analyzing market trends for accurate mortgage rates, or ensuring seamless integration of fiat and crypto, Legitt AI promises precision and efficiency. For lenders aiming to position themselves at the forefront of mortgage innovation, adopting platforms such as Legitt AI is not just an option; it's the future.
In a world where financial technology is evolving at breakneck speed, AI-enabled contracts for mortgage payments represent the next step. As we bridge the worlds of fiat and cryptocurrency, ensuring we have the right technological partners, like Legitt AI, will be pivotal to navigating this new frontier.
Did you find this Legitt article worthwhile? More engaging blogs about smart contracts on the blockchain, contract management software and electronic signatures can be found in the Legitt Blogs section. You may also contact Legitt to hire the best contract lifecycle management services and solutions.
FAQs on AI-Enabled Contracts for Mortgage Payments
What are AI-enabled contracts in the context of mortgages?
AI-enabled contracts utilize machine learning and natural language processing to create, manage, and streamline mortgage contracts, ensuring personalization and reducing human errors.
Why is cryptocurrency being considered for mortgage payments?
Cryptocurrencies offer benefits like faster transaction speeds, reduced fees due to decentralization, and increased transparency through blockchain, making them an attractive alternative for many financial operations, including mortgages.
How can borrowers hedge against cryptocurrency volatility?
By integrating both fiat and cryptocurrency systems in mortgage payments, borrowers can switch between the two, depending on market conditions, providing a safeguard against extreme crypto market fluctuations.
What are smart contracts and how do they fit in?
Smart contracts are self-executing contracts with terms written as code. In mortgages, they can automate and enforce payment terms, facilitating smooth transactions, especially when alternating between fiat and crypto.
What challenges might arise from integrating AI and cryptocurrency in mortgages?
Challenges include potential regulatory issues, tech glitches, the need for user education, and ensuring robust cybersecurity measures given the sensitivity of financial transactions.
How does Legitt AI enhance the integration of fiat and cryptocurrency in mortgages?
Legitt AI offers advanced algorithms that adapt to changing financial landscapes, aiding in contract creation, market trend analysis, and ensuring a seamless blend of fiat and crypto payment systems.