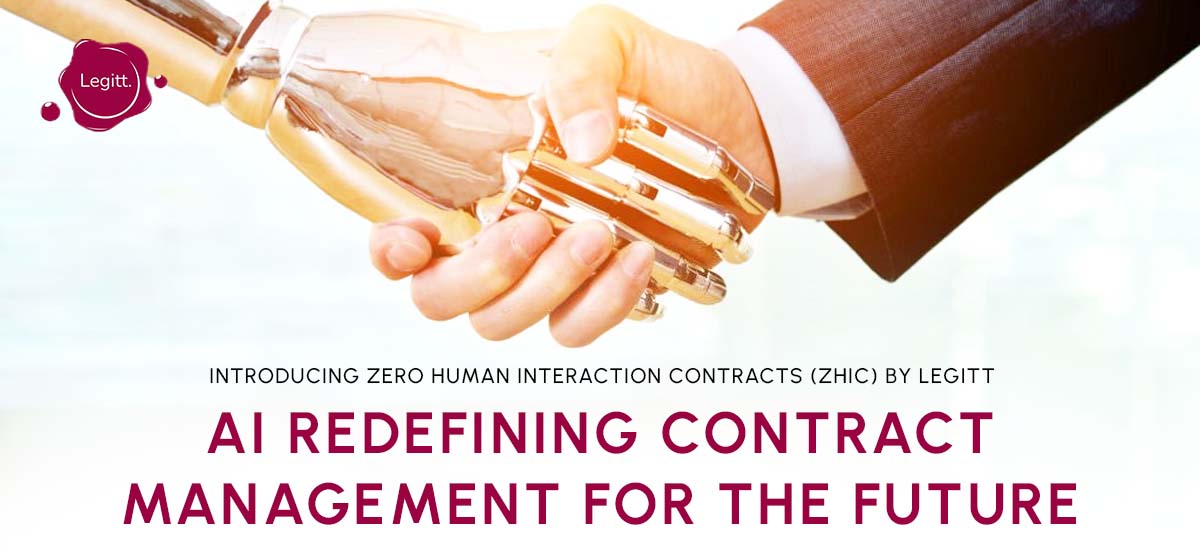 The rapidly advancing digital realm continually challenges businesses to rethink and redefine their traditional processes. One such domain undergoing significant transformation is contract management software. While contracts are essential in sealing agreements and defining terms of engagement, their creation, monitoring, and renewal often involve cumbersome and error-prone processes. Enter Legitt AI's Zero Human Interaction Contracts (ZHIC), set to revolutionize contract management.
Embracing the Future with ZHIC
In a business landscape where every second counts, agility and accuracy play pivotal roles in ensuring competitiveness. The age-old methods of drafting, reviewing, and renewing contracts are now barriers to speed and efficiency. This is where ZHIC emerges as the game-changer, offering a glimpse into the future of autonomous contract management.
Delving Deeper: Understanding ZHIC
At its core, ZHIC is a technological marvel developed by Legitt AI, aiming to automate the entire CLM system. What does this mean for businesses? It means moving away from manual intervention, thereby reducing potential mistakes, saving time, and increasing efficiency.

The Intricacies of ZHIC: A Step-by-Step Overview
Automated Contract Creation: Gone are the days when teams spent hours drafting types of clauses in a contract. ZHIC intelligently pulls the required data – be it party details, product descriptions, payment terms, or any other essential details – from a plethora of sources, including external systems, websites, or even ERPs and CRMs. This wealth of data facilitates the swift creation of detailed and comprehensive contracts.
Digital Signature Integration: The often time-consuming process of getting signatures is drastically simplified. Contracts are automatically signed digitally, thus streamlining approval flows and ensuring faster execution.
Automatic Distribution: Upon creation and signature, contracts are immediately dispatched to relevant stakeholders. This reduces the lead time traditionally associated with contract dissemination and approval.
Alerts & Milestone Tracking: A significant challenge with traditional contract management is tracking key milestones and staying updated on critical timelines. ZHIC's automated system ensures that all significant events are not just tracked but also communicated to stakeholders in real-time, reducing the chances of oversight or delays.
Efficient Monitoring & Reporting: The system continuously monitors for deviations or non-compliance. This proactive approach ensures that discrepancies are highlighted instantly, facilitating timely intervention.
End-of-Term Procedures: Traditional contract renewals can be a hassle, often leading to unintended lapses. With ZHIC, as contracts approach their end, renewals can be triggered automatically, ensuring seamless business continuity.
Lifecycle Management: Every stage of contract management lifecycle process, from inception to conclusion, is overseen by ZHIC. This hands-off approach guarantees adherence to stipulated terms, ensuring a hassle-free experience for all parties involved.
Contract Health Monitoring: Beyond mere automation, ZHIC brings intelligence to the table. The system continually evaluates the 'health' and 'strength' of contracts. Potential weaknesses or vulnerabilities are flagged, enabling businesses to take proactive corrective measures.
Also Read: Can you notarize for family in NY

Reaping the Benefits of ZHIC
The merits of ZHIC extend far beyond mere automation:
Efficiency: By automating the lifecycle, contracts move faster from drafting to execution.
Accuracy: Human error is minimized, ensuring more accurate contracts.
Proactiveness: Real-time alerts mean businesses are always one step ahead.
Cost Savings: Operational costs related to contract management see a substantial reduction.
As the world marches forward, clinging to legacy systems and outdated processes can hinder progress. With ZHIC, Legitt AI provides businesses a glimpse into the future, where contracts are not cumbersome but catalysts for growth. As automation and intelligent solutions become the norm, embracing technologies like ZHIC is not just advisable but essential. Get ready to redefine the boundaries of contract management and propel your business to unparalleled heights.
Did you find this Legitt article worthwhile? More engaging blogs about smart contracts on the blockchain, contract management software and electronic signatures can be found in the Legitt Blogs section. You may also contact Legitt to hire the best contract lifecycle management services and solutions.
FAQs on Zero Human Interaction Contracts
What is ZHIC by Legitt AI?
ZHIC, or Zero Human Interaction Contracts, is an innovative solution by Legitt AI that automates the entire contract lifecycle, minimizing human intervention.
How does ZHIC differ from traditional contract management?
ZHIC streamlines and automates contract processes like creation, monitoring, and renewal, making them faster, error-free, and requiring minimal to no human touchpoints.
From where does ZHIC fetch contract-related data?
ZHIC intelligently pulls data from various sources, including external systems, websites, ERPs, and CRMs, to create comprehensive contracts.
How does the digital signature integration work in ZHIC?
Contracts are automatically signed digitally using ZHIC, streamlining approvals and ensuring rapid execution without manual delays.
How does ZHIC handle contract milestones and alerts?
ZHIC tracks all critical contract events and milestones, proactively informing stakeholders in real-time, ensuring timelines are adhered to without manual reminders.
What is ZHIC's approach to contract renewals?
As contracts near their expiration, ZHIC can autonomously trigger renewal processes, ensuring business continuity without human intervention.
How does ZHIC monitor the 'health' of contracts?
ZHIC continuously evaluates contracts for their strength and health, flagging potential weaknesses or vulnerabilities, allowing businesses to take proactive measures.
Why should businesses consider implementing ZHIC?
ZHIC offers improved efficiency, accuracy, real-time monitoring, cost savings, and a proactive approach to contract management, making it an invaluable tool for modern businesses.
Is ZHIC suitable for all types of businesses?
ZHIC is adaptable and beneficial for various businesses, from startups to large corporations, that wish to optimize their contract management processes.
Does ZHIC entirely eliminate the need for human oversight in contracts?
While ZHIC drastically reduces human touchpoints, periodic reviews and oversight are still recommended to ensure alignment with business objectives and compliance.